Listening to several Q3 earnings calls in 2021 you may have heard a similar comment made across industries and employers: "…the impact of labor shortages on our quarterly results was approximately $X million". Similar statements have been made by other Fortune 500 Leaders. Neither wage increases nor perks have sufficiently mitigated the problem. Perhaps it's time to try something new.
Everyone Deserves To Be Cool and safe is our core belief. Power Breezer has deployed over 50,000 systems including 70% of Fortune 100 companies, all branches of the military and most professional and college football teams to help with morale and attrition. Power Breezer starts where HVAC stops.
Create a Climate of Safety to reduce attrition
Leading research institutes such as NASA, Berkeley Labs, and OSHA, have proven that heat negatively affects four key organizational costs: employee retention, productivity, safety, and quality.
These hidden costs of heat can be quantified – they range from $4,500–5,000 per associate for every month of warm weather! For package handlers in trailers the cost of heat is more than double. Trailer interior heat in peak summer can exceed 120°F and will exceed 90°F in most of the country for most of the year.
Managing Heat in the Workplace
There is a direct correlation between heat rise and worker performance. Studies have shown that the higher temperatures increase, the more productivity decreases. Therefore, for employers, heat presents several hurdles which can have a major impact on their bottom lines. These include managing temperatures to ensure safety for all workers.
Employee Attrition Due to Heat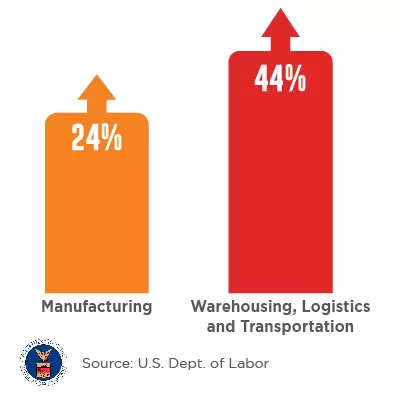 Worker satisfaction and happiness directly affect the output from your employees. If they are comfortable, happy, feel acknowledged, and know they are valued for their work, they are more likely to put forth a great deal of effort into what they produce. However, if they are constantly working in hot, uncomfortable, unsafe conditions, they will probably be unhappy with their jobs.
This can have a direct impact on employee attrition, and it can be very costly for employers to deal with. According to data produced by OSHA and the U.S. Department of Labor, employee attrition rate doubles when workers are faced with constant hot conditions. This data shows that those who sweat more on the job also quit their jobs more often.
On the positive, managing heat is an actionable goal, and issues due to heat are 100% preventable in most cases. And, as an employer, you hold a duty to ensure your workers are safe, comfortable, and content when on the job.