Millions of workers deal with high temperatures and hot conditions in their workplaces each year, however, heat-related illnesses are entirely preventable scenarios. Employers have a responsibility to provide safe working conditions for their employees and if injury or illness occurs, they may be held liable. OSHA, the U.S. government's regulatory agency that oversees workplace safety conditions, provides a range of educational materials to support employers and businesses to ensure work environments are safe. It is their duty to step in when employers overstep boundaries of safety, putting employees and workers in danger.
Can a Company be Fined by OSHA for Heat?
As any company dealing with OSHA fines for heat violations knows, you can definitely get fined for repeated violations of heat-related infractions. Employers and businesses have a responsibility to ensure they provide safe, comfortable working conditions, and heat is a known workplace danger. If employees are placed at risk for heat illnesses, including heat stroke, which can lead to death, employers are very much responsible. The types of protections employers should be providing their employees who are exposed to high-heat conditions include, access to cooler temperatures to escape high heat outdoors, proper breaks, cool drinking water, and shade if work is being performed outdoors. Read about the April 2022 OSHA's National Emphasis Program around Heat Safety to protect at-risk employees across a variety of industries.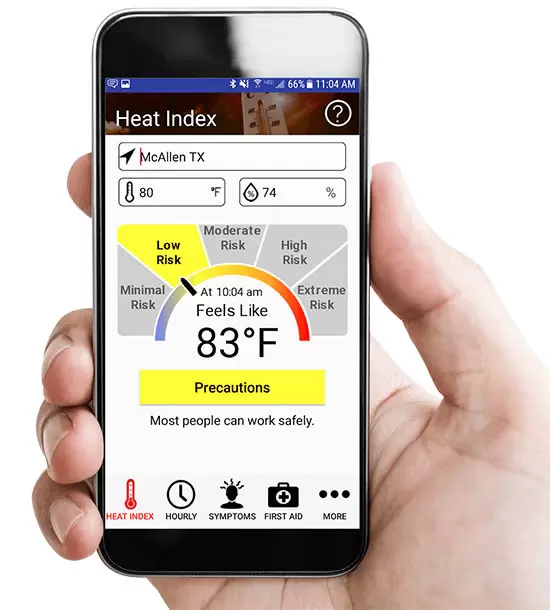 Heat on the Job: The Risks
Environmental health hazards can be an issue both indoors and outdoors. Depending on the location of the job, as well as the specific conditions of the environment, employees can be at risk for heat-related illness in all seasons; not just during summer heat waves. Most cases of severe heat exhaustion and heat stroke occur because the individuals have not yet acclimatized to the heat exposure. If you are not accustomed to working in high-heat conditions, the body needs time to adjust and build up a tolerance. In regards to preventing heat-related fatalities, workers need to acclimatize.
Occupational risk factors for heat illnesses include the following:
Hot environmental conditions, temperatures over 80°F
Heavy physical activity
Lack of cooling methods/ lack of air circulation
The employee is not acclimatized to the heat/ conditions of the environment
Wearing restrictive/ dark-colored clothing that traps body heat
OSHA Standards for Heat
While you can be fined by OSHA for conditions at your job site or work environment that place employees at risk, OSHA does not have a certain benchmark of what temperature is considered dangerous. OSHA uses a heat index guide for educating employers on preventing heat-related emergencies and illness. Productivity begins to decline when temperatures reach 78°F, and the need for safety is especially important during the summer months when temperatures spike.
Comfortable temperatures vary from one person to the next. While some people find the ideal working temperature to be around 72°F, others may prefer a warmer temp at 78°F. OSHA has a recommended temperature range between 68-76°F, with humidity-controlled at a range of 20%-60% in workplaces to ensure both safety and comfort for employees and workers.
While it is quite unlikely that the temperatures in an indoor office will reach dangerously high levels, should there be a failure in cooling the temperature, if temperatures outdoors are over 100°F, employees are at risk for getting excessively, dangerously hot.
Therefore, it is important to have measures in place for workers to stay cool and comfortable while on the job. While some employers are intimidated by the prospect of using cooling systems due to the high energy costs most are known for, Power Breezer presents an economical, high-powered, advanced system trusted by such entities as the NFL, NASA, and the U.S. Military.

How Power Breezer Keeps it Cool
Power Breezer presents an innovative solution to environmental heat by delivering continuous blasts of cool air, generated by an evaporative cooling system. This has the power to work indoors and outdoors, dropping temperatures 27°F, while also requiring very little energy to do so. These atomized evaporative cooling fans have been used throughout the world on countless military bases, serving all five branches of the military, and also during the 2021 Super Bowl to ensure players, coaches, bystanders, and spectators are kept safe, comfortable, and cool.
For people who work in industries such as warehousing, shipping, logistics, sports, various industrial fields, manufacturing, delivery, landscaping, commercial kitchens, construction, or roofing, it is especially important to be aware of the outdoor temperatures for each particular day. Furthermore, having a system in place to ensure workers are always safe is even more important because heat-related illnesses are a very serious matter. When employees are physically performing laborious work, in extremely hot conditions, with very high heat indexes, the risk of injury or even death due to the heat is very real. Therefore, it is necessary for employers and businesses to provide protective measures and safety protocols in their work environments.
If you are the owner of a business or in a position of leadership in a company, it is important to understand the legal obligations your company is responsible for in regards to safe work conditions and heat. Furthermore, it is always preferable to avoid OSHA fines. A Power Breezer evaporative cooling system may be able to provide the right temperature adjustment for your work environment without a huge increase in energy expenditure while keeping your employees cool when working. Contact us today to see if you qualify for a complimentary, on-site assessment to see how Power Breezer can help you maintain safe temperatures on the job or on the field.