If you work in a facility that has a serious problem with heat, you can't ignore that the average 8 foot by 10 foot loading dock allows a lot of cool air to get sucked out of the building. To mitigate the loss of cool air and to put a stop to workplace injuries due to heat and extreme weather, dock door seals can help keep your loading docks safer and more efficient.
You will experience the benefits of loading dock door seals right away after installation:
Save money on cooling and heating
Reduce your carbon footprint
Provide added security against theft
Protect products against insects and the weather
Limit product exposure to changes in temperature
There are a number of different dock seals for different facilities, so it's important to work with an experienced and reputable company that will get them installed correctly, the first time.
Measuring
You will need the dimensions of the trucks that back up to dock doors, as well as the measurements for the door itself. If you don't have the right measurements, it can allow cool air or heat to escape or enter in places you don't want. Also, incorrect measurements can lead to eventual damage to the seals.
The dock height is the most important dimension, and can be considered to be (give or take) 48 inches standard. If the dock height from the ground is shorter, it will raise the top of the truck in relation to the door and a deeper height will lower it. Getting these measurements wrong can create problems and cause the truck not to seal at the top or cause potential impact damage.
If you are using trailers of different sizes, you can also install dock seal versions that have a head curtain for a more universal approach.
Not all loading docks are created equal. Sometimes a dock can be on an angle, or they can be on a slope going down or up so some measurements and calculations must be considered when installing dock seals and other products such as bumpers.
What Kinds of Dock Seals Are There?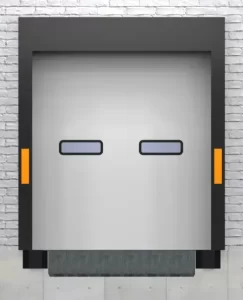 Standard Dock Seals
These seals fit most different varieties of dock doors and provide the best possible seal between the building and the truck. These pads provide a tight seal against the truck and are designed with the most common variety of truck in consideration.
Curtain Dock Seals
Dock seals with head curtains usually have the feature of a 24-48inch head curtain for doors which are more than 9 feet tall. Many of which are using a pulley system or overlapping PVC curtains.
Adjustable Dock Seals
The most expensive and desirable dock seals are fully adjustable, usually around 18 feet high; these have an adjustable head designed to accommodate different types of trucks. Many of them operate with a garage door like spring system.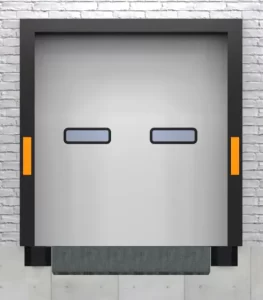 When dock seals are used in conjunction with Power Breezer atomized evaporative cooling systems (either mobile or mounted) your business can save money and increase climate control efficiency in your facility.