If you have a facility, warehouse, or commercial building of any kind with multiple loading docks – you have probably noticed that in summer months the heat can build up like an oven inside of trailers and warehouses creating dangerous work conditions and causing a decline in overall morale and employee retention.
To cool your dock doors and trailers, there are a limited number of solutions that can help lower the temperature, reduce energy loss, and create a safer, more productive work environment.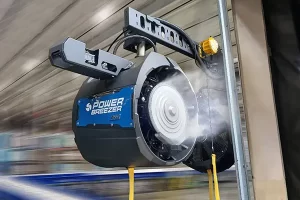 Mounted Evaporative Cooling – For loading docks with limited floor space and high volume, the Power Breezer SKY is a rugged, mounted atomized evaporative cooling system connected directly to electric and water lines which frees up floor space and features an intelligent system with cutting edge sensors to adapt to any environment. Thermal data ensures the right balance of atomized water and wind are used to efficiently cool each trailer and provides controlled, adaptable cooling with no user input.
Mobile Evaporative Cooling – Power Breezer Mobile is a portable atomized evaporative cooling system that can cool where nothing else can. Simply roll your Power Breezer up, fill it with water, and turn it on to quickly blow cool air into a trailer to lower the temperature. Roll it out of the way when you're done! The unit features an 85 gallon water tank, the capability of blowing cool air and wind up to 100 feet away (in ideal conditions), oscillating head, and wheels so it can be placed just about anywhere. These are commonly found in warehouses, stadiums, and at outdoor events.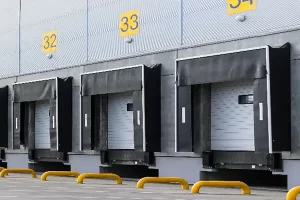 Air Conditioning – The most commonly seen means of cooling, air conditioning, can be quite effective but can be extremely wasteful and costly with severe limitations when being operated in an environment with large bay doors due to the high energy demands.
Strip Curtains – To reduce the amount of hot (or cold) air as well as dirt and debris from entering your facility from outside, strip curtains are probably one of the most common solutions found at facilities across the globe. These curtains can protect employees when a dock is open or in use and can be made from a variety of materials which can protect from snow, rain, and other weather conditions.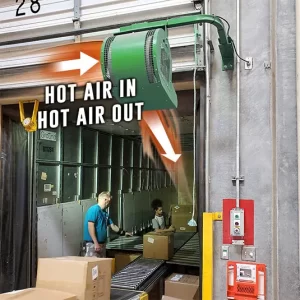 Loading Dock Seals – These seals create a gasket-type seal on 2-3 sides of a trailer. As a trailer rests against the dock bumpers, the trailer causes compression in the foam and keeps cooler air inside the facility from escaping. The benefits of loading dock seals include lowering electricity costs, minimizing contaminants from entering the dock door, protection against the weather, and increasing comfort for employees.
High Speed Doors – Every moment that a dock door is left open, is another moment that climate control gets sucked right out of the building. In conjunction with cooling equipment such as atomized evaporative cooling, high speed doors will reduce the amount of lost air as well as limit the amount of dust that can come in from the outside.
Spraying Water on Trailers – One way to cool down a trailer which is super hot outside is to spray it down with water to temporarily lower the temperature as it bakes out in the sun. There are obvious disadvantages to this method, however, including the use of an exuberant amount of water.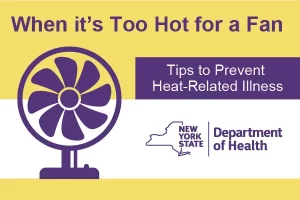 High Velocity Fans – Powerful fans can be either mounted to face inside trailers and circulate the air or placed on the ground. The disadvantage to using high velocity fans is that they don't actually lower the air temperature – they can turn the inside of your trailers to a convection oven of sorts and potentially exacerbating the potential for heat injuries.
If your facility needs to lower temperatures and would like to increase productivity, reduce mistakes, and improve employee attrition rates contact Power Breezer for a free estimate!