The United States Military has specific guidelines that dictate safety conditions based on the temperature. These assessments are done during the summer months by teams responsible for monitoring safe temperatures. In their duties, they perform wet bulb globe temperature readings, which will then determine a specific heat category for that time of the day, which is then used to determine appropriate work/rest cycles for the safety of all involved. Each temperature category is assigned a specific flag color, with "black" being the most extreme.
Read on to learn more about temperature designations, Black Flag environments, how they are managed in the military, and effective cooling systems to combat them.

What is Wet Bulb Globe Temperature?
Though it is often mistaken for heat index, "Wet Bulb Globe Temperature" (AKA: WBGT) is a way of measuring the ambient temperature. It also includes the effect of relative humidity. This type of temperature reading involves the use of specialized technology and monitoring equipment to determine the ambient temperature, solar loading, and humidity.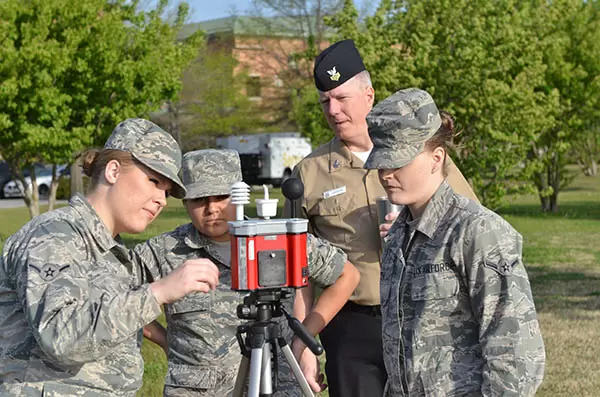 During the daytime, WBGT readings can change drastically due to changes in the weather. Personnel on military bases take WBGT readings when temperatures are expected to reach a minimum of 85℉. For this reason, from June 1st through September 30th, wet bulb globe temperatures are taken multiple times daily between the hours of 8 AM through 5 PM.
These readings are then sent to supervisors at the base so they may accurately determine the appropriate work/rest cycles for that period. Depending on the readings, specific colored flags are posted at the base's Triangle and fitness centers to communicate the heat level at each noted time of the day. This alerts others on what to expect, as well as if there are any inherent heat threats, due to the temperature.
The Black Flag Environment
A Black Flag designation occurs when the outdoor temperature exceeds 90℉. When monitoring the daily temperature readings, if a leader calls a Black Flag Warning, it is imperative for all involved to take notice and follow through with the appropriate action. In the event of a "Black Flag" announcement, all strenuous exercise must be halted. Outdoor work in these conditions requires the approval of a commander and will be limited only to mission critical tasks. This rule demands a ratio of 75% rest to 25% work.
U.S. Military Temperature Flag Designations
Here is a breakdown of the colored flags used to determine heat safety and for the Prevention of Heat Stress Disorders, per the Air Education and Training Command Instruction 48-101: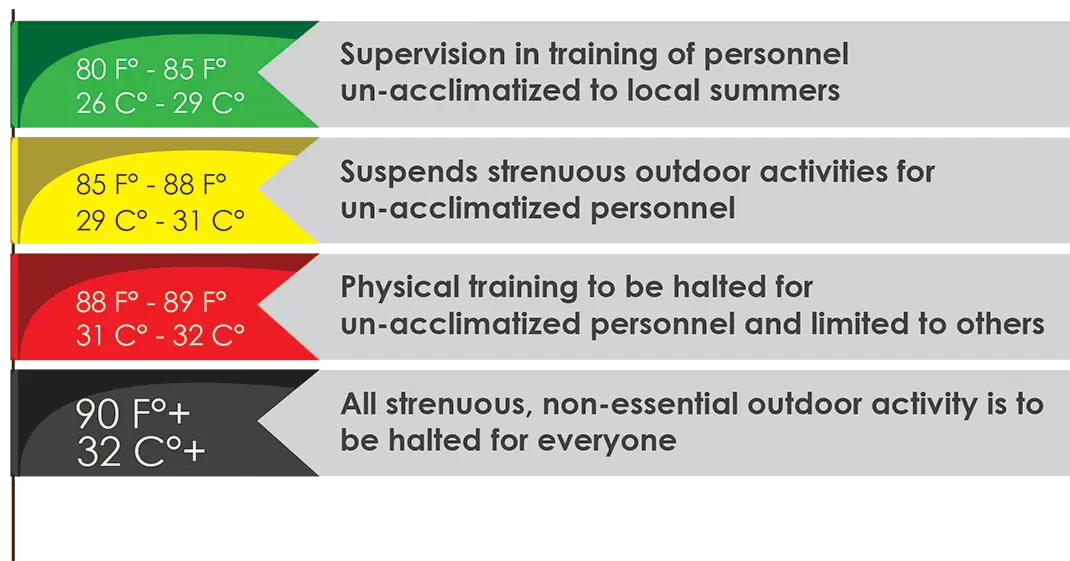 The Importance of a Black Flag Environment Designation
When conditions are determined to be a "Black Flag" scenario, it is extremely important to follow protocol. This designation exists to institute a series of rules to help prevent heat-related illness, which can easily occur when the temperatures get very high. All heat-related illnesses are preventable, however, having the right education and actions to follow ensures more attention is brought to the matter. The three types of illnesses that can occur due to the heat include:
Heat exhaustion
Cramps
Heat Stroke
Bring in Power Breezer Atomized Evaporative Cooling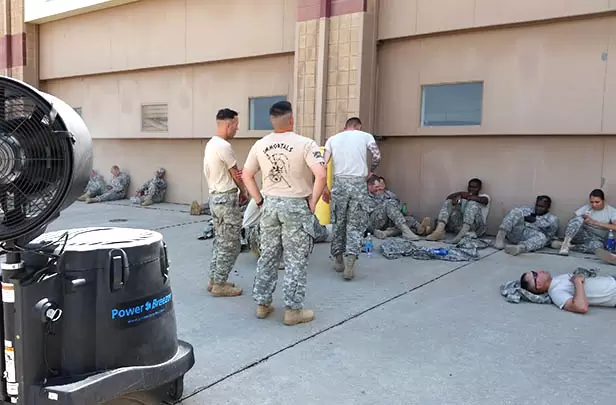 To have a Black Flag Environment distinction means conditions must be managed with care and consideration, particularly for those working. In all five branches of the U.S. Military, Power Breezer cooling systems are utilized as a convenient and effective means of controlling temperatures when they get excessive. To increase productivity and to ensure a comfortable environment for those working in intense conditions, the Power Breezer has the ability to decrease temperatures by 27℉, offering significant relief and cooling.