Depending on the needs of your business, using a misting fan may or may not be ideal. If you do decide to use a misting fan, you should be aware of various factors, features available, and how to figure out exactly what you need for your business. Here we break down the basics and pinpoint the specifics of misting fans. Read on to learn more.
What Are Misting Fans?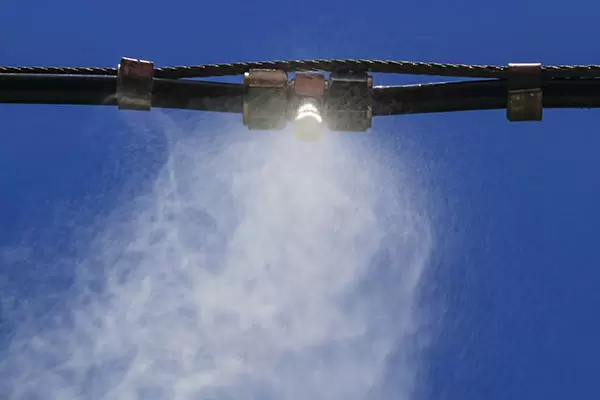 Misting fans are a type of cooling technology that delivers a cool mist through a fan. The simplest misting fans feature a tank that holds water, a motor, and a fan. They can be wall-mounted, ceiling mounted, and portable machines. These machines can range in power from simple low-end designs to large, industrial models that can deliver mist up to 50 feet in distance and wind up to 100 feet, such as the Power Breezer Mobile.
Why Misting Fans Are a Top Choice for Cooling
Misting fans are an excellent way to cool spaces, indoors and outdoors. They are highly energy-efficient and do not require excessive energy, installation, or setup to run them. For this reason, they are a very cost-effective cooling solution, which makes them highly sought after.
Typically, they are portable and can be moved and positioned as needed. Using just water, misting fans can reduce temperatures, ensuring everyone within the space receives relief from the heat. Misting fans are essential cooling devices used by the U.S. Military, the Ecommerce and logistics industries, pro sports teams, and the hospitality industry – just to name a few. Depending on the fan, some models propel mist without getting bystanders wet, however, some models are designed to lightly spray water.
How to Choose a Misting Fan
Choosing a misting fan comes down to understanding the different types of models available on the market, understanding the various pros and cons of them, and being aware of what your business's needs are. Consider:
Size of the space
Ensure the misting fan can adequately cover the area to ensure all people are cool.
Power
The larger the space and the more people in the workspace, the greater the need for stable power output from the fan.
Maintenance
How much maintenance the system requires should be taken into account. If you are looking for an efficient, autonomous misting fan, be aware that these are not features on all systems.
The Surrounding Environment
Does the misting fan wet the surrounding environment?  Is there any sensitive equipment that could be affected?
Cons of Standard Misting Fans
Typically, misting fans deliver a mist through a nozzle, attached to a tube that connects to a water supply or water tank. A fan is used to disperse the mist into the space, providing cooling.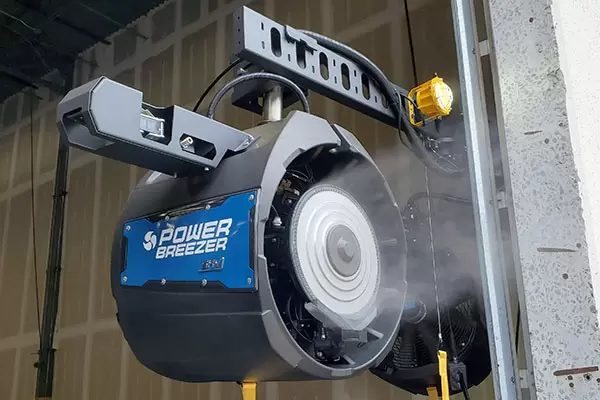 In misting fan models that feature a nozzle, it is very important to be vigilant regarding maintenance and cleanliness, as they have a tendency to clog from buildup. Sediment from the water can accumulate on different parts of the machine, creating blockages. Sometimes, due to the force of the water pressure, other parts of the misting fan can come loose and get stuck elsewhere in the system, creating a blocked nozzle as well. For some units, clogs can be so common that it may make sense to purchase a centrifugal system for the machine.
Additionally, keep in mind that not all misting fans are created with solid, durable construction. Some feature unbalanced heads/base ratios that can cause tipping. Some models are not weather-resistant and are susceptible to corrosion. Many machines are prone to noisy performance, which can be a major annoyance in some work settings.
Level Up: Power Breezer Misting Fans
Power Breezer systems are among the most powerful and versatile atomized evaporative cooling and misting fans available on the market. These fans help some of the world's most demanding entities operate efficiently and safely. Power Breezer users include Amazon, FedEx, The U.S. Military, the NFL, MLB, PepsiCo, and the United States Department of Homeland Security, among so many more.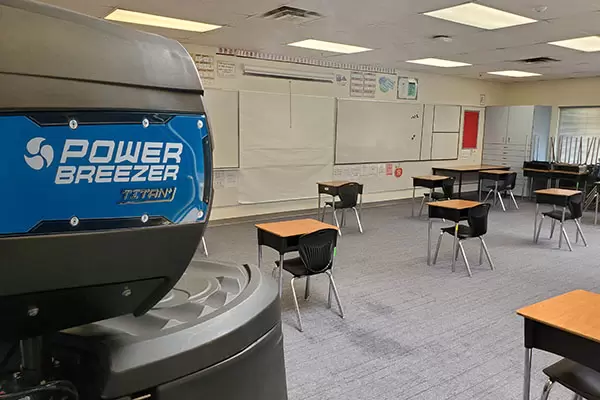 What sets these machines apart is that they are not only misting fans, but you have the option to control the extent of the mist. If you'd prefer no mist emitting from your device, you can coordinate that setting. Likewise, if you want mist sprayed from your fan, that can be set to your needs.
Mist Plus Sanitization
Additionally, due to their power and misting abilities, Power Breezer fans can be used for industrial sanitization purposes as well. The Power Breezer MAX+ is capable of providing mist up to 50 feet in distance, which makes it a top choice for cooling, misting, and disinfecting very large spaces, both indoors and outdoors. The Power Breezer Mach 4+ offers very similar performance and can deliver mist up to 40 feet in distance.
If you are seeking a powerful, efficient, versatile misting fan for your business, consider the immense capabilities of Power Breezer fans. Choosing the best misting fan for your business presents numerous options, especially if you are interested in a commercial-grade fan. Before embarking on such an investment, you should be properly educated about the many choices available.
To learn more about Power Breezer misting fan systems, contact our team today.