If your business operates in an industrial sector or the work conditions expose workers to constant high heat, it may be wise to consider cooling technology for the safety and well-being of your workers. Purchasing an evaporative cooler is one such option, however, it is a decision you should go into with awareness, education, and preparedness. Here's what you should consider if you are looking to purchase a commercial-grade evaporative cooling system.
Background Info on Evaporative Coolers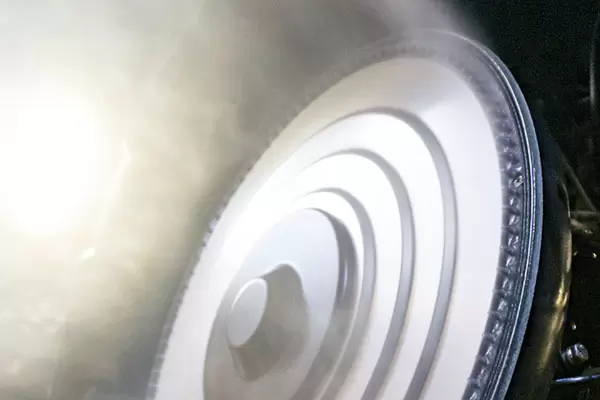 Evaporative cooling systems are powerful, energy-efficient machines that cool large spaces effectively. There are different types of evaporative coolers, however, the main goal of these systems is to cool temperatures.
They can cool both indoor and outdoor spaces, they are portable, and they use evaporating water to provide temperature reduction. Evaporative cooling systems are a great alternative to traditional air conditioning or fans, because they offer greater versatility compared to portable AC, and they are more powerful and capable of cooling effectively than standard fans.
Points to Consider When Purchasing a Commercial Evaporative Cooling System
Your individual needs must be taken into account when purchasing a commercial-grade evaporative cooling system. The type of performance you want, along with the conditions it will be running in are very important factors. The most important things to consider when buying a commercial evaporative cooler include:
Power: How much power does the unit offer?
Maintenance: How much maintenance is required of the unit? How much time will be necessary to continue keeping the system running?
Energy-Efficiency: What kind of energy output can you expect from the evaporative cooler?
Cleanliness: Does the system get filthy on the inside? Is the system overall clean?
Durability: Can the system handle the demands of the conditions you are going to use it in?
Portability: How easily can the system be transported from one location to the next, as needed?
Versatility: Is the system versatile enough for your needs? Can it be customized based on your needs?
Types of Evaporative Coolers
There are two general types of evaporative coolers – "swamp coolers," and atomized evaporative cooling systems from Power Breezer.
How these systems differ is in how they ultimately work. While they both harness the power of water evaporation to generate cooling, the overall design of the systems is different. Here are some of the details of each type of cooler and what differs between them:
Swamp Coolers:
Connected to a water tank.
Uses a water supply valve and pump.
Water distribution lines bring water into the system.
Evaporative pads are used to generate evaporation and filter the air.
A blower propels the evaporation-cooled air into the room, thereby cooling the space.
Require ongoing maintenance.
Can drop temperatures up to 10°F degrees.
Power Breezer Atomized Evaporative Cooling:
Uses an atomizer to evaporate the water, producing exceptionally clean air and mist.
Cools the warm air in the space, transforming it into cool air.
A powerful fan blows the cool air into the space.
No filters or nozzles are necessary for running.
No maintenance is needed, long or short-term.
Different settings allow for customizations, including propulsion and sanitization.
Can be used in the most difficult environments on earth.

Comparing the Systems
Because these are the most general types of evaporative cooling systems, understanding their differences is important in deciding which one will get the job done most appropriately for your work environment. While swamp coolers are very well-known in the market, their limitations can be a burden for some businesses and entities, especially in commercial settings. They are effective, but may not be able to sufficiently cool places such as loading docks, trailers, warehouses, and excessively hot remote settings.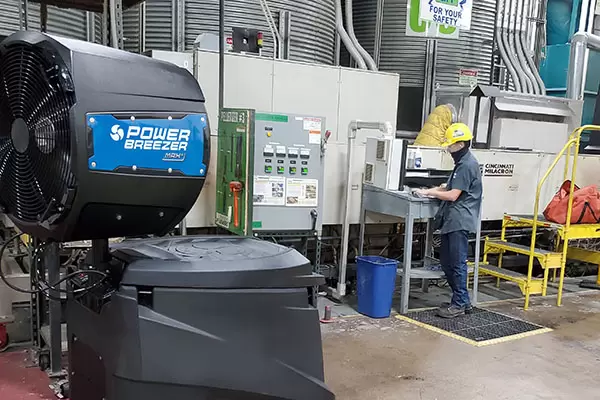 Power Breezer cooling systems are made specifically for commercial and industrial settings. They were designed to meet military requirements because this type of portable, versatile, durable cooling system did not exist prior. Power Breezer fans provide cooling to keep military personnel safe, as they work in many of the most difficult, trying conditions in the world. They offer exceptional energy efficiency, along with powerful cooling to mitigate heat, even in "Black Flag" conditions, when temperatures soar past 90°F, and only mission-critical tasks can be performed. Made to work just about anywhere, these systems are found on United States military bases across the world, and used by all branches of the military.
If you are a supervisor, business owner, or manager of a workplace that contends with high heat, ensuring the safety and productivity of your team is essential. For those considering the purchase of a commercial evaporative cooler for the work environment, it is essential to know what the needs of your space are, as well as what options you have available. To learn more about how Power Breezer systems can keep your workplace cool, your employees safe, and productivity rolling, contact our team today.