The Power Breezer SKY is a mounted, intelligent cooling system designed especially for cooling locations with limited floor space such as warehouses and loading docks. Working in extreme temperatures is dangerous, and working in trailers can present some of the most difficult conditions regarding high heat. The Power Breezer SKY presents a cooling solution that can cool where nothing else can. Continue reading to learn how this innovative system works and why you may want to consider having this level of cool in your workspace.
The Need for Innovation
As the world continues to heat up, those exposed to high-heat conditions are becoming more at risk of heat-related illnesses while working. There is a clear need for powerful solutions that can mitigate heat, and at the forefront of cooling technology stands the Power Breezer SKY.
Designed to perform in high heat / high traffic locations, bringing cool air where needed most, this incredible machine has been designed with the most intelligent innovation to cool where nothing else is capable. From U.S. Military bases in the Middle East to loading docks at logistics centers in the Southeastern U.S.A., these machines can cool even outdoor locations, without the extreme cost of portable air conditioning.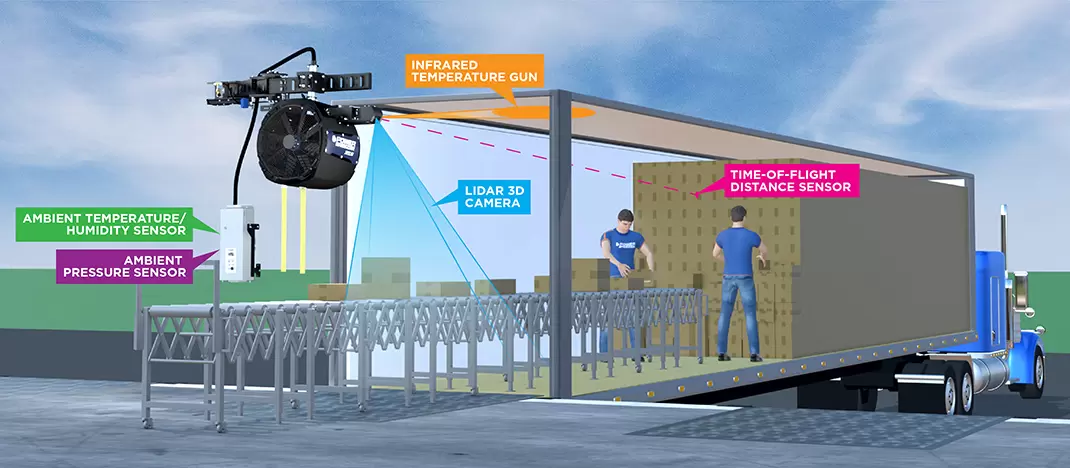 The Intensity of Loading Dock and Trailer Conditions
Loading docks, trailers, and warehouses are essential to meeting the demands of consumers and retailers in today's digital world. E-commerce has contributed immense conveniences and has changed the retail landscape, and in this manner, the importance of having loading dock fans for efficient operations is an absolute must.
Because loading docks and trailers present some of the most difficult, intense, and extremely hot work environments, it becomes even more of a necessity than other worksites to maintain temperatures at safe, workable levels. Loading docks and trailers can exceed outdoor temperatures drastically, soaring as high as 120°F degrees. Workers in these locations are often performing difficult manual labor, and they become highly susceptible to heat stress and fatigue.
For employers, this presents an additional aspect to consider: the loss of profit and productivity from workers not being able to meet the demands of the job. The cost of heat for workers in trailers is three times more than typical warehouse workers. The bottom line here is having reliable, powerful, and effective means of cooling is a business necessity.
About the Power Breezer SKY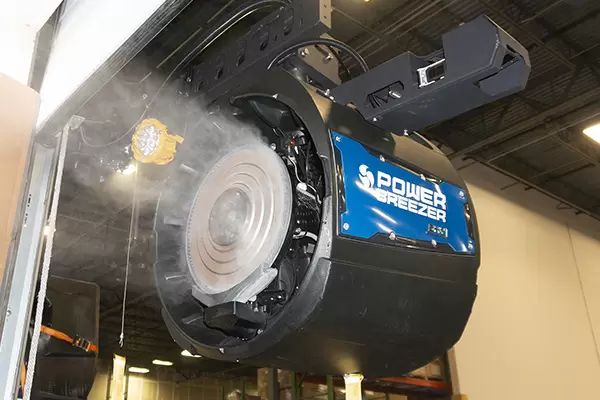 The Power Breezer SKY offers the most innovative and advanced cooling system for trailers and can be used as a powerful loading dock fan. It was carefully designed to meet the specific demands of these environments, providing autonomous and intelligent cooling.
Air conditioning is not the most cost-effective or logical way to cool these environments for workers. It can cost millions of dollars to install the appropriate air conditioner units, in addition to the excessive cost of running and maintaining them in these temperatures. Traditional fans are also not a serious cooling method, as they do not do much to cool temperatures. Because of the specific needs of these locations, an alternative cooling method is necessary.
The Power Breezer SKY was designed to cool where other systems cannot. Through the power of atomized evaporative cooling, these high-powered mounted fans can cool temperatures dramatically, enabling better working conditions, protecting workers, and keeping productivity at a high level. The intelligence behind these systems is not just about blasting cool air. They work by transforming the air in the location into cool air, passing it through the atomizer system, and using the power of evaporating water to bring down the surrounding temperature. All the while, the entire system runs on water, and remains very energy efficient, which helps save on cooling costs as opposed to air conditioning.
Power Breezer SKY Technology
The Power Breezer SKY features incredible technology that enables it to perform in some of the most difficult environments and trying conditions. Developed particularly to meet military needs and then gaining a reputation for excellence, these fans are helping some of the world's largest companies accomplish more. Here are some of the cutting edge features of the Power Breezer SKY:
Wind range is up to 100 feet / 30 meters.
Contains advanced, intelligent sensors that aapt to any environment it is placed in.
Run in Autonomous Mode, the SKY monitors conditions and automatically adjusts airspeed and misting to accommodate overall comfort, without requiring assistance.
Atomized evaporative cooling is an excellent option for trailers and loading docks because the system does not wet the surrounding area, so there is no risk of damaging goods with excessive water.
The Power Breezer SKY features patented jet stream technology that channels cold air wherever it is needed with line of sight.
The atomizer of the system produces clean air that is cool and exceptionally fresh.
Long gone are the days of dealing with mediocre solutions to heat mitigation. The immense power of atomized evaporative cooling from the Power Breezer SKY is changing how operations in some of the world's most difficult work environments are handled.
To learn more about how this innovative cooling solution can help your employees stay cool and maintain productivity, contact our team today.