Loading docks and trailers are known for being demanding work locations, where workers handle extremely physical job duties. They have to move fast as they manage the loading and unloading efficiently and precisely, ensuring accuracy in physically unbearable environs. They have to be physically ready and mentally sharp, because these environments can wear them down dramatically if they are not prepared to work hours immersed in them. Temperatures can reach over 125 F degrees, and during the hottest months of the year, this creates extremely hot, dangerous work conditions.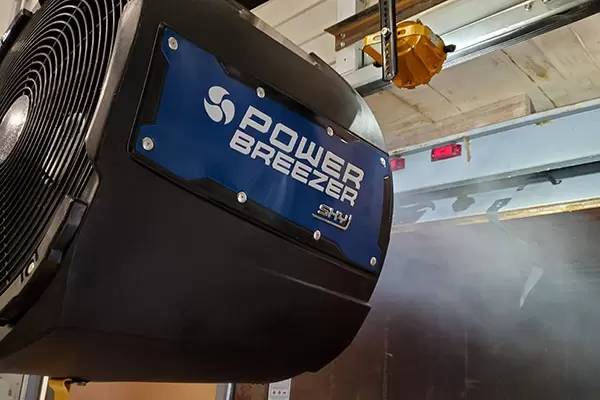 There's a reason companies like Amazon, Frito Lay, West Rock, Cost Plus World Market, International Paper, FedEx, PepsiCo, and Tuff Shed use Power Breezer machines in their workplaces. The technology, cooling power, and cost savings are unmatched!
More About Loading Docks
As the eCommerce industry has exploded globally, becoming the most common method of purchasing goods, warehouses and loading docks have become essential parts of the logistics industry. They ensure the processes of purchasing, sourcing, and shipping products are efficient and convenient.
Loading docks are often not only extremely hot, but with almost no ventilation, which makes them stagnant, stuffy, and practically unbearable. For workers exerting themselves physically, there is a great risk of injury on the job, especially heat-related injuries. Therefore, measures must be taken to ensure those working in these locations are safe and have access to cooler temperatures and hydration. Cooling methods should be utilized to ensure comfort and safety at all times to prevent dangerous situations or even death.
Loading Dock Fans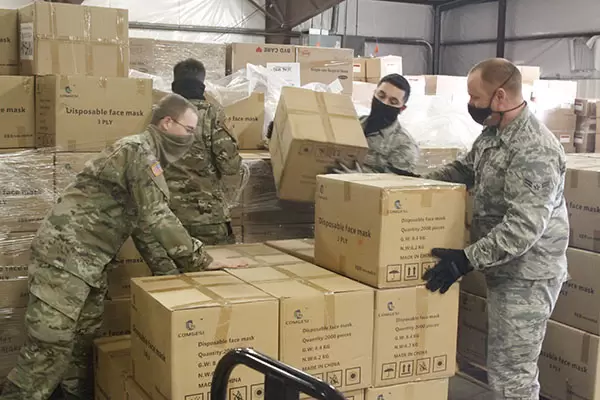 The market offers many types of mountable fans that are used in loading docks, but some offer much better performance than others. Loading dock fans to help keep workers cool, however, in many circumstances, they do not provide adequate cooling or ventilation. Loading and unloading docked trailers is extremely uncomfortable, and for many workers, they can be very hazardous if the intense heat is not managed. This is due to the difficult environment; most high-powered loading dock fans do little more than blow the existing air, creating a hot breeze and no true heat mitigation. Of course, this is better than no measures taken, however, it does not provide cooling, and no one should be expected to work physically in such extreme temperatures.
Cooling Loading Docks Effectively
Loading docks are such hot, stuffy locations that require the most powerful machines for cooling and keeping the spaces comfortable. If you are still using old-fashioned fans in hopes of cooling the space, it may be time to update your cooling measures. Power Breezer systems may be the answer to manage your loading dock's high heat.
Some of the ways a Power Breezer fan can improve the conditions at your loading dock include: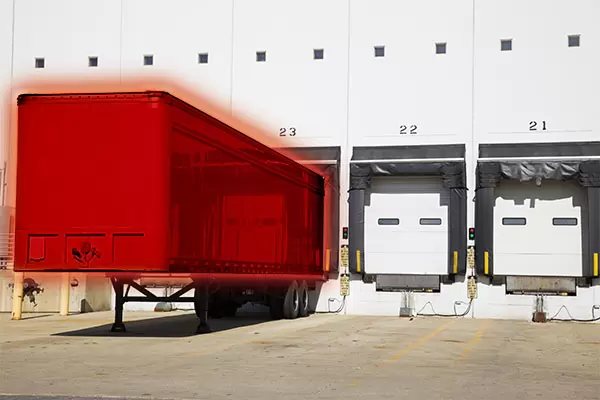 Enhance Productivity: Keep your loading dock running like a well-oiled machine with proper temperature reduction and ventilation. It is widely known that the higher temperatures reach, the greater the inclination for mistakes to occur. Having sufficient, reliable cooling technology can help keep your workforce comfortable and relaxed, ensuring they can continue working without interruptions, errors, and injuries due to heat.
Keeping Workers Safe: Loading docks are often crowded, bringing in many people and many germs. Power Breezer fans can be used not only for critical cooling efforts, but also to disinfect large, industrial spaces easily and effectively. This ensures workers can work in the safest conditions.
Protecting Against Product Spoilage: Extreme heat can also be dangerous for products being shipped and stored. Loading docks are very hot with minimal ventilation, which can put products at risk for spoilage. Having airflow and temperature reduction can help keep products in transit safe, which can have a very positive effect on a company's bottom line, especially in reducing waste.
Power Breezer Sky: State of the Art Cooling
One solution to managing the suffocating environment of loading docks are the innovative, immensely powerful Power Breezer fans. Most specifically, the Power Breezer SKY was made to drop temperatures and provide superior comfort and cooling in environments such as loading docks. These fans are mounted above a door threshold, typically; hence the name. From this position, they generate robust temperature reduction through atomized evaporative cooling. Then they propel this cool air with a high-powered fan to keep the entire space cool with ease and great power.
Conclusion: Upgrade Your Loading Dock with the Best Cooling Technology
The ideal loading dock fans are powerful, efficient, and exceptionally functional. The right fan can make all the difference in the productivity and output of your workplace. If your business is interested in upgrading your loading docks with innovative technology that can drive greater performance, ensure worker safety and comfort, and remain affordable for businesses, consider implementing the Power Breezer SKY into your loading docks. Workers can handle working longer and delivering greater productivity under cool, comfortable conditions.