Having reliable mechanics and auto technicians is essential to keep vehicles running well and repaired when necessary. They perform extremely difficult, skilled work in some of the most taxing conditions, involving high heat, heavy machinery, attention to detail, problem-solving, and dealing with disgruntled customers.
Despite all the difficulties of their professions, heat should not be one of the factors making their jobs hard. If you are researching shop fans for your auto shop, read on to learn about water cooled shop fans and atomized evaporative cooling systems from Power Breezer, a leading manufacturer of powerful, energy-efficient cooling technology.
Automotive Repair Shops Get TOO HOT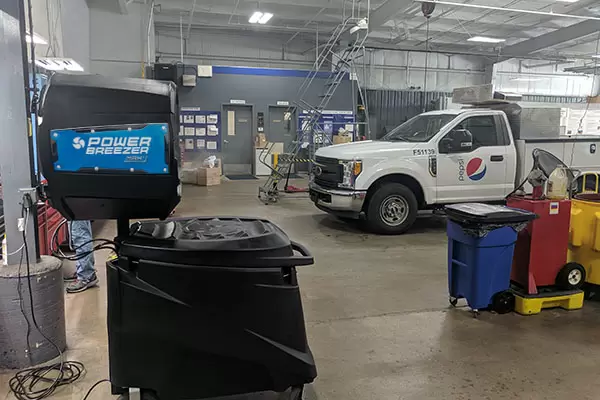 Auto shops are unique environments, often requiring workers to labor in intense heat and all kinds of climate conditions. Most notably, during the summer months, auto work can be brutal, placing workers in situations where they are fully clothed and working with tools outdoors like grinders and welders. The demanding nature of the job requires stamina, strength, and a profound tolerance for the heat. However, even the most experienced auto workers are susceptible to heat-related illnesses. As a result, having sufficient cooling is extremely important for worker safety and overall productivity.
Some of the most important factors for keeping auto shops cool and comfortable include:
Versatile power: Having cooling systems that are powerful enough to run outdoors and keep the environment cool, unlike an air conditioning unit, which cannot run when outdoor air is being let into the space.
Cool in demanding conditions: The shop fan you choose needs to dependably cool the space when temperatures rise and machinery is producing additional heat.
Cause no damage: The type of cooling fan should be able to work effectively without damaging the many tools and pieces of equipment in the shop. Therefore, the fan must not produce a continuous spray of mist or emit moisture that can hit surfaces.
Value and efficiency: A shop fan must deliver powerful cooling without the demands, maintenance, and expenses of an air conditioning system.
Portability: Shop fans should be portable to move the system throughout the shop, as needed.
Low maintenance: Because in the demanding environment of an auto shop, time is of the essence, and no one has time to spend on the cooling system.
Affordability: Overhead and ongoing costs matter tremendously and no business wants to exhaust more money than necessary.
The Solution: Atomized Evaporative Cooling
Unlike traditional evaporative cooling, atomized evaporative cooling is a powerful, energy-efficient, low-maintenance alternative. Using only water to run, powered by an atomizer to produce extremely clean, sanitized cool air, atomized evaporative cooling is among the most powerful types of cooling technology. Similar to swamp coolers in how it works, atomized evaporative cooling is even more simplified, sanitary, and low-maintenance, with no parts to constantly replace and nothing to maintain. Once the fan's tank is filled with water, it can produce enough cooling power to last through several shifts.
Powerful Cooling for Indoor and Outdoor Environments
Power Breezer atomized evaporative cooling fans can be excellent solutions to help mitigate heat in difficult locations. These fans work by transforming the air within the space from hot, stale, muggy air into cool, fresh, and clean air through the unique, atomized evaporative process.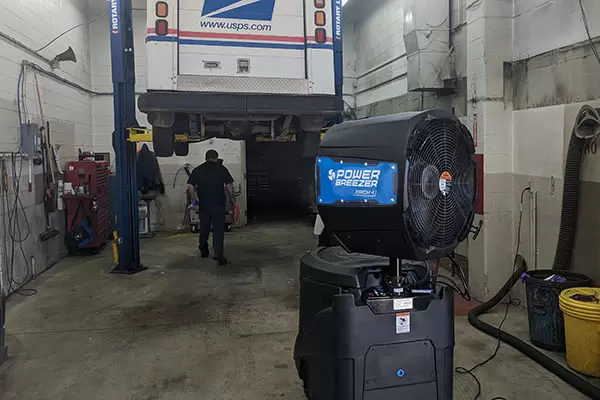 Auto shops often utilize indoor/ outdoor setups and having cooling that can work with open doors or outdoors can make all the difference. Auto technicians deal with intense work conditions, especially due to the heat during hotter times of the year. Many tools, machines, and types of equipment found in auto shops generate additional heat, which adds to the already hot conditions during summer months, making shops further challenging for safety and productivity.
Auto shops are designed for maximum functionality for the business, however, this must be balanced with keeping the location cool and ventilated. Most shops are not well insulated, and because they are indoor-outdoor setups, heat is unavoidable and dangerous if not managed well.
Power Breezer's line of products includes several models that are excellent for businesses such as auto shops. These include:
Keep Your Auto Shop Cool with Power Breezer Evaporative Coolers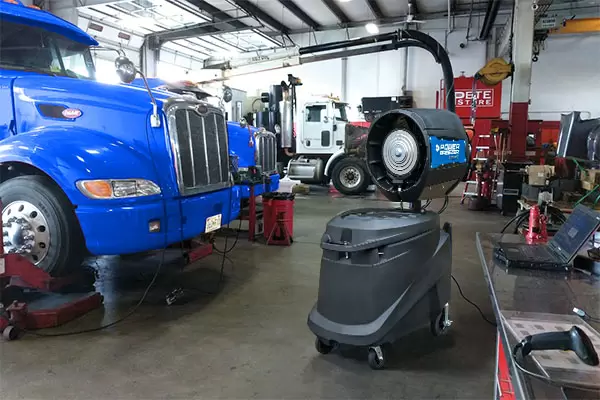 If you are seeking options for cooling your shop with water cooled shop fans, we hope this article has provided the info you need. Here at Power Breezer, we strive to produce technology that allows businesses to run better, more efficiently, much cooler, and more comfortably. Our products are used by some of the world's most dominant brands, such as Amazon and PepsiCo, and they are the top choice of all branches of the United States Military for their intelligent cooling powers.
To learn more about how we can support your needs for effective, powerful shop fans, contact Power Breezer today.