In the age of Covid19, having sufficient means of disinfecting and providing sanitization is more important than ever. In places of commerce, healthcare, shipping and anywhere, that experiences an influx of people and has high-touch surfaces, having powerful methods of providing disinfection can ensure people stay safe in their day-to-day lives.
Commercial-Level Disinfecting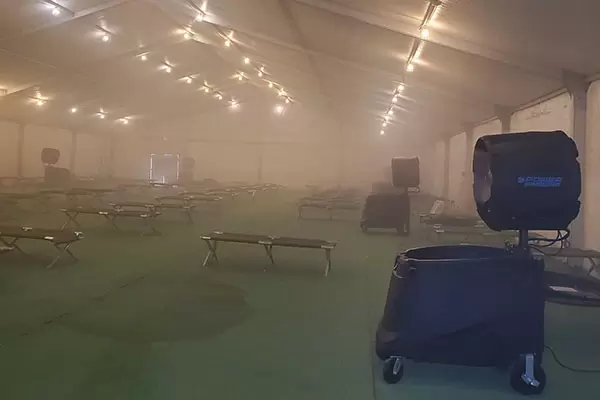 Covid19 brought to light the importance of ensuring commercial and industrial spaces receive proper and thorough sanitization and disinfection on a very constant, regular basis. With millions of people out of work due to shutdowns and millions of businesses forced to close to ensure the safety of the public, the effects of the loss of productivity continue to reverberate throughout the United States more than a year after quarantine began. Large-scale sanitization, as a result, is a method many businesses, corporations, and entities have addressed to ensure business continues to run, people can return to work, and citizens can return to their normal lives. Evaporative coolers are helping to make this a reality by delivering large-scale disinfection in businesses, healthcare facilities, schools, and industrial environments.
Evaporative Coolers for Disinfection and Sanitization
Evaporative coolers are powerful fans that provide ample cooling power by evaporating water. Power Breezer systems take this concept to a new level by providing exceptional cooling using a patented atomized evaporative cooling system in a manner that is cleaner, more powerful, and more effective than typical evaporative cooling. Unlike standard evaporative cooling systems, often known as swamp coolers, Power Breezer fans use an atomizer to evaporate water, instead of filters and water-saturated pads. This allows them to produce exceptionally clean, continuous cool airflow, in contrast to swamp coolers, which can get very dirty and moldy over time. They also require the changing of filters continuously to help mitigate the mold issue. Having bacteria and mold flowing through the air is dangerous, and no one should be subjected to breathing in air that contains mold spores. Furthermore, it is counterintuitive to have to clean up after a system providing a necessity, when an alternative type of system can cover both needs economically and efficiently.
In this regard, Power Breezer fans offer one of the best methods for industrial and commercial-level sanitization over large areas, while also cooling the air and providing ventilation.
Where Can Power Breezer Disinfection be Used?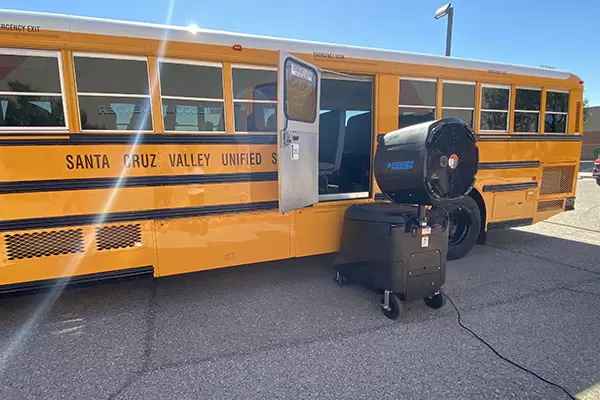 Some of the environments that can benefit from Power Breezer disinfecting technology include:
Schools and universities
Industrial environments
Hospitals and healthcare centers
Workplaces
Airports
Correctional facilities
Warehouses and shipping facilities
Supermarkets
Retail locations
Gyms and sports centers
How Power Breezer Disinfects and Sanitizes
Power Breezer fans are highly valued for their incredible abilities and how versatile they are. They can easily be converted into a powerful method to eliminate germs on all exposed surfaces. Used as a method for sanitization, they can disperse disinfectants through vaporization. They can cover up to 65 feet in a cone pattern of 60 degrees, with great effectiveness. Additionally, Power Breezer fans for disinfection can be used in any indoor space that requires a safe, efficient, and rapid means of cleaning and sanitization.
Harness the Power of Power Breezer Disinfection
There are many ways to disinfect and keep an environment clean and free from viruses, bacteria, and mold, however, the substances used should remain safe and non-toxic for all people who enter the space. In workplaces, industrial environments, schools, and hospitals, there is no need to risk the health and safety of people with exposure to dangerous chemicals for sanitizing. Power Breezer systems equipped with the correct types of disinfectants can provide powerful sanitization, while saving you money and keeping all parties safe; from workers, to patients, to students, and shoppers. The combination of Power Breezer's robust, sanitary fans, utilizing disinfectant sprayed on all exposed surfaces will give your business and its patrons the peace of mind needed to feel confident entering the space.