The Power Breezer Mach 4+ is extremely durable. This advanced atomized evaporative cooling fan offers supreme power, exceptional efficiency, and it can be used in the world's most rugged landscapes. Designed for military, commercial, and industrial use, durable is an understatement regarding the capabilities of the Mach 4+. To learn more about how this system can deliver voracious cooling like nothing else, read on!
History of the Power Breezer Mach 4+
The Power Breezer Mach 4+ does what no other cooling system can because it was designed to fill a serious gap in the market. This powerful cooling machine handles the most demanding environments, can run in the most rugged landscapes, and runs in a very autonomous manner without needing continuous maintenance and oversight.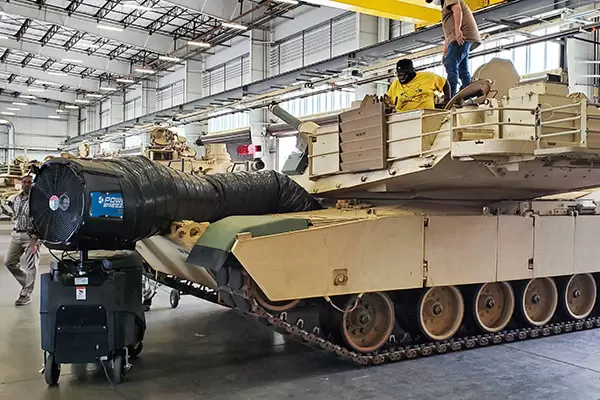 Power Breezer was developed for use by the U.S. Military and for other high-level government purposes to ensure those working to protect our nation, in the most trying conditions, have powerful, reliable cooling available when needed most. In conditions such as the Middle East, having a rugged cooling machine that can be deployed just about anywhere was an essential requirement. Additionally, these systems needed to be able to cool indoor and outdoor spaces, run on just water without changing filters and tanks, while lasting through numerous shifts.
Power Breezer products undergo rigorous testing and they have achieved various military certifications, including MIL-STD-810. This is a military standard developed by the U.S. Department of Defense, ensuring product safety, performance in extreme environmental conditions, and product efficiency.
As a result, the Power Breezer Mach 4+ was developed, fulfilling all of these needs. Since its debut, these machines have been used by the U.S. Department of Homeland Security, by all branches of the military, and on military bases throughout the world.
The Environments it was Built for
Power Breezer evaporative coolers are made especially for ensuring the comfort and safety of soldiers and military personnel, who sometimes endure intense heat. When forced to work in extreme temperatures, stress levels rise and this has the potential to negatively affect performance and concentration.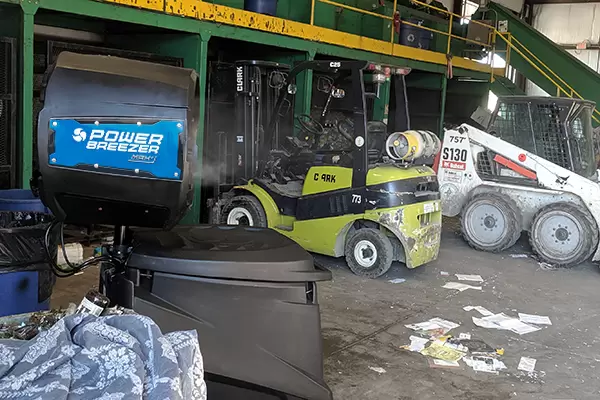 The Military has no margin for error in this regard, so it is important to have the right tools to manage these conditions and protect against heat stress. Black Flag scenarios, which are called when temperatures are over 90 degrees, are especially dangerous working conditions. Soldiers equipped with gear and wearing full PPE can be even more affected by the intense heat, so having efficient temperature reduction is essential. Usually, only mission-critical tasks are performed in these temperatures, and having cooling technology available on hand can protect everyone from heat-related illnesses.
Capabilities of the Mach 4+
The Power Breezer Mach 4+ boasts a range of incredible features that enable it to perform durably in nearly all conditions. This system is made for use in both very large indoor spaces and mid-sized, semi-enclosed outdoor spaces. It can propel its powerful breeze up to 100 feet in distance and it can also propel a fine mist up to 40-60 feet away (depending on conditions). It can oscillate as well, if that feature is desired. Powered by just water, this fan includes a very large tank that can run through 5–6 shifts on average, without refilling. Because the design uses no filters, it is low-maintenance and simple to manage; our customers report only about $35/ per year to keep a Power Breezer Mach 4+ running! Additionally, the fan has no nozzles, so clogging is never an issue.
Featuring exceptionally smart technology, the system includes an auto-sensor that shuts the machine off automatically so it requires very little attention. During use, despite its incredible output, this fan is exceptionally quiet.
How Power Breezer is Helping in the Battle Against COVID-19
In terms of durability and versatility, there is no other fan on the market that can help against the spread of COVID-19 like the Power Breezer Mach 4+. This has provided critical, industrial-level disinfection since the onset of the COVID-19 pandemic, enabling businesses to continue running, while keeping spaces sanitized and safe for workers and patrons.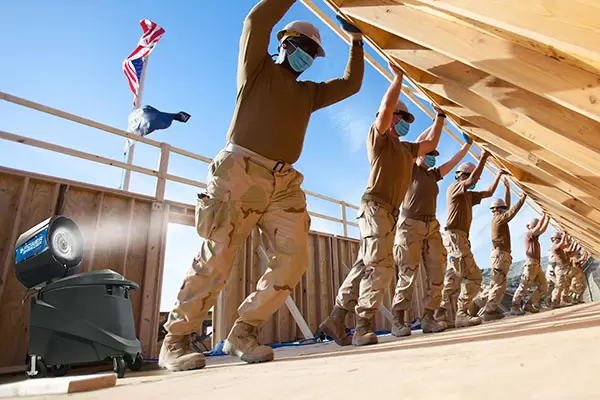 As a deployment mechanism, the Mach 4+ system uses ProGuardeum Optimum™ Pro Surface Defense, an EPA approved, non-bleach, water-soluble disinfectant. This environmentally safe agent is certified N-list approved to kill COVID. It is used to keep businesses, schools, warehouses, manufacturing centers, corrections facilities, recycling centers, and military locations sanitized without using bleach. It can cover very large spaces efficiently, keeping high-touch surfaces clean, without exposing people to toxic cleaning agents.
The Power Breezer Mach 4+ is among the most rugged, durable, high-performance cooling systems in the world. This machine's technology was developed because there was nothing like it available, and the need existed. While it cools tremendously and keeps people in dangerous, high-heat conditions safe from heat-related illnesses, it does so much more. From helping soldiers protect the nation to helping against the spread of COVID-19, this fan is beyond any typical heat mitigation tool.
For more information on what this powerful cooling fan can do for your business, reach out to us!