Renting cooling machinery is a great temporary option if you don't have the full need to purchase for continuous use. For events, parties, conferences, or other types of gatherings where heat may be an issue, you may be considering renting an industrial swamp cooler or Power Breezer, or a similar type of portable cooling system. Power Breezer Atomized Evaporative Cooling Systems, as well as industrial swamp coolers, are readily available for rent, and one of these systems may work well for your event depending on your individual needs.
If you are weighing the pros and cons between these two types of cooling technology, here is a full-scale comparison of industrial swamp coolers and Power Breezers which should allow you to choose the right machine for your needs. Continue reading for more info!
About Industrial Swamp Coolers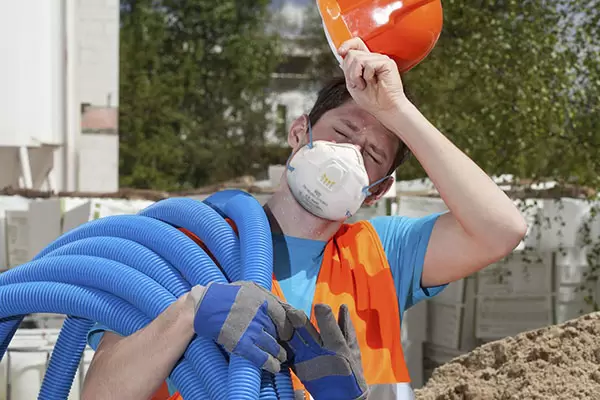 There are many types of swamp coolers on the market. Industrial swamp coolers are large-scale cooling devices that are portable and versatile, allowing you to cool different spaces as needed. They are made specifically for businesses in the industrial sector. They can be used in a variety of different locations, indoors, and outdoors in semi-enclosed spaces. They are considered very energy-efficient and can cool spaces quickly and effectively. In some settings, air conditioning is impossible, so having a versatile, portable, convenient way to cool temperatures with a swamp cooler is a solid way to go.
Pros of Choosing a Swamp Cooler:
Less expensive than some other types of cooling systems such as Air Conditioning, even when renting.
Many models can be purchased readily at box stores.
These are good options for short-term cooling needs.
Can produce a decent level of cooling, especially when compared to basic electric fans.
More versatile and portable than even portable air conditioners.
They operate using water indoors and (in some cases) outdoors.
Swamp Cooler Cons:
They require continuous maintenance to function, such as changing filters which costs money (sometimes hundreds of dollars!)
Needed replacement filters add to the Total Cost of Ownership
As filters become dirty, the efficiency and effectiveness of the cooler decreases
These are not the most powerful portable cooling systems
Swamp coolers can be prone to mold and bacteria
Swamp coolers often use outdated technology, being standard evaporative cooling using pads. vs. atomized evaporative cooling.
Most swamp coolers have no oscillation functionality. Cools only one direction at a time
Some are very large in size and take equally large floor spaces to accommodate them relative to their cooling capabilities
Water hose connection needed for refill. Slip, trip and leak hazards
Uncirculated water in the water tank may become a breeding ground for pathogens and mosquitos.
About Power Breezer Systems
Power Breezer atomized evaporative coolers are also portable and versatile, giving tremendous freedom and options for how they are used. These machines are designed specifically for use in industrial and commercial settings, and they are known for their durability in some of the world's most difficult environments. Created for use by the military, these machines are tough enough to keep military personnel safe as they perform some of the most demanding work in hot, treacherous, and trying conditions. Power Breezer fans are known for their power and intense cooling abilities, while also being energy-efficient, extremely quiet, and simple to run. They do not require maintenance, and their working components are ultimately very simple to operate.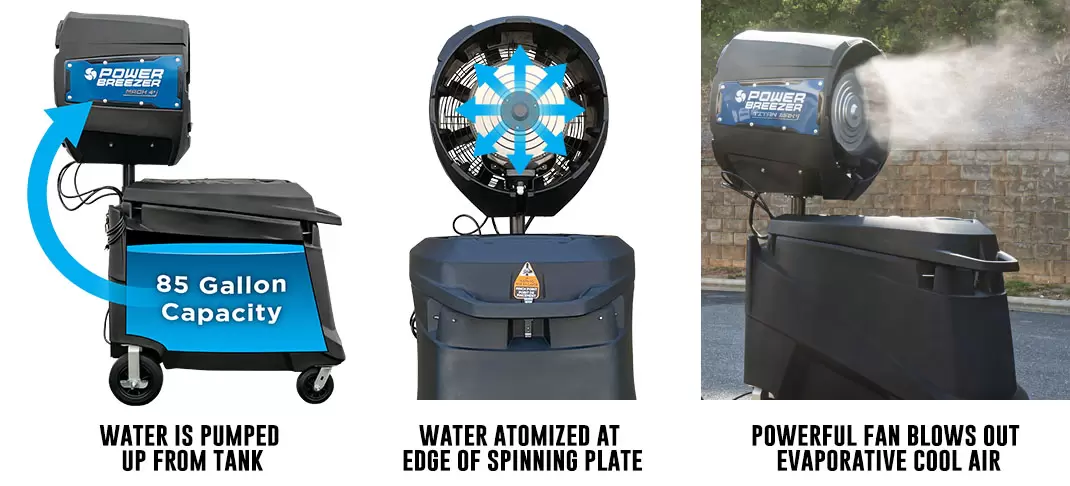 Pros of Renting a Power Breezer:
More affordable to rent (in the short term) than purchasing a Power Breezer.
More powerful, versatile, and capable than swamp coolers in most cases
They can be used indoors and outdoors.
The Power Breezer Mach 4+ and the Power Breezer Max+ models an 85-gallon water tank.
No filters are needed for operation, keeping these units cleaner and more sanitary than swamp coolers.
Less maintenance: Power Breezer fans can run through 5–6 shifts before the tanks need refilling.
More advanced: Using the power of atomizers accomplishes more than standard methods of evaporation.
No hoses are needed for running, which keeps these machines extremely simple and free of places where buildup can accumulate.
Blows air up to 100 feet, which is superior to what most swamp coolers can accomplish.
Durable. MIL-STD-H certified
If you are looking to rent a swamp cooler or a Power Breezer, most importantly, you should consider your needs and the type of performance you want the system to achieve. While both of these machines provide cooling, it's how that cooling is done, and the type of results they produce that really matter.
Should your business need a temporary solution for cooling a large industrial space, conference space, or sporting event space, a Power Breezer may be the ideal choice for you. To learn more about their capabilities, or to learn more about how they may fit your individual needs precisely, visit our products page!
If you are interested in renting a Power Breezer system, our team can help get you connected to one of our rental distributors. We have distributors located throughout North America, and we can accommodate a wide array of needs. Please contact our team today by filling out our Power Breezer rental form for more information on coordinating a Power Breezer rental.